The Wild Routes of Rotterdam
The Wild Routes of Rotterdam is a project about walking, exploring and discovering new territories within the urban periphery.
I'd like to invite you to a journey to discover these parts of the city that seem to be eclipsed by the bright light of progress, revealing their inner frontiers and contradictions.
TWROR consist on a series of 30 paintings; a suburban odyssey through the Ringweg van Rotterdam, the busiest road of the Netherlands and a "weird tentacle" that divides and connects the city at equal parts.
Construction sites, industrial areas, highways, abandoned zones, terrain vagues and "places out of place" are, to name a few, the topics that The Wild Routes of Rotterdam investigates, drawing attention on these forgotten lands with the aim of filling these neglected spaces with new possible meanings.
To see the map click
here
Teqnique: watercolor
Size: 21 x 15 cm
2017
"The Wild Routes of Rotterdam" es un proyecto sobre caminar, explorar y descubrir nuevos territorios dentro de la periferia urbana de Róterdam.

Me gustaría invitarte a este viaje a descubrir esas partes de la ciudad que parecen haber sido eclipsadas por la luz del progreso, revelando sus fronteras internas y contradicciones.

TWROR consiste en una serie de 30 pinturas; una odisea suburbana a través del Ring de Róterdam, la carretera más transitada de Holanda y un "tentáculo raro" que divide y conecta la ciudad a partes iguales.

Obras en construcción, aéreas industriales, autopistas, zonas abandonadas, "terrain vagues" y sitios fuera de lugar son, por nombrar algunos, los temas que "The Wild Routes of Rotterdam" investiga, poniendo el foco de atención en esas zonas olvidadas con el propósito de llenar estos espacios de nuevos significados.

Para ver el mapa haz click aquí
Técnica: acuarela
Tamaño: 21 x 15 cm
2017
#01 Jacques Dutilhweg
#03 Knooppunt Kleinpolderplein

#05 Knooppunt Terbregseplein

#07 Knooppunt Terbregseplein

#09 Van Brienenoordbrug

#11 Knooppunt Kleinpolderplein

#13 Knooppunt Kleinpolderplein
#15 Knooppunt Kleinpolderplein

#17 Prinsenlaan

#19 Van Brienenoordbrug

#21 Knooppunt Kethelplein
#23 Knooppunt Kleinpolderplein

#25 Knooppunt Kleinpolderplein

#27 Feijenoord

#29 Columbusstraat
#02 Knooppunt Ridderkerk

#04 Noorderkanaalweg
#06 Knooppunt Ridderkerk
#08 Knooppunt Kleinpolderplein

#10 Knooppunt Kleinpolderplein

#12 Noorderkanaalweg

#14 Gordelpad

#16 Marie Overeijnderweg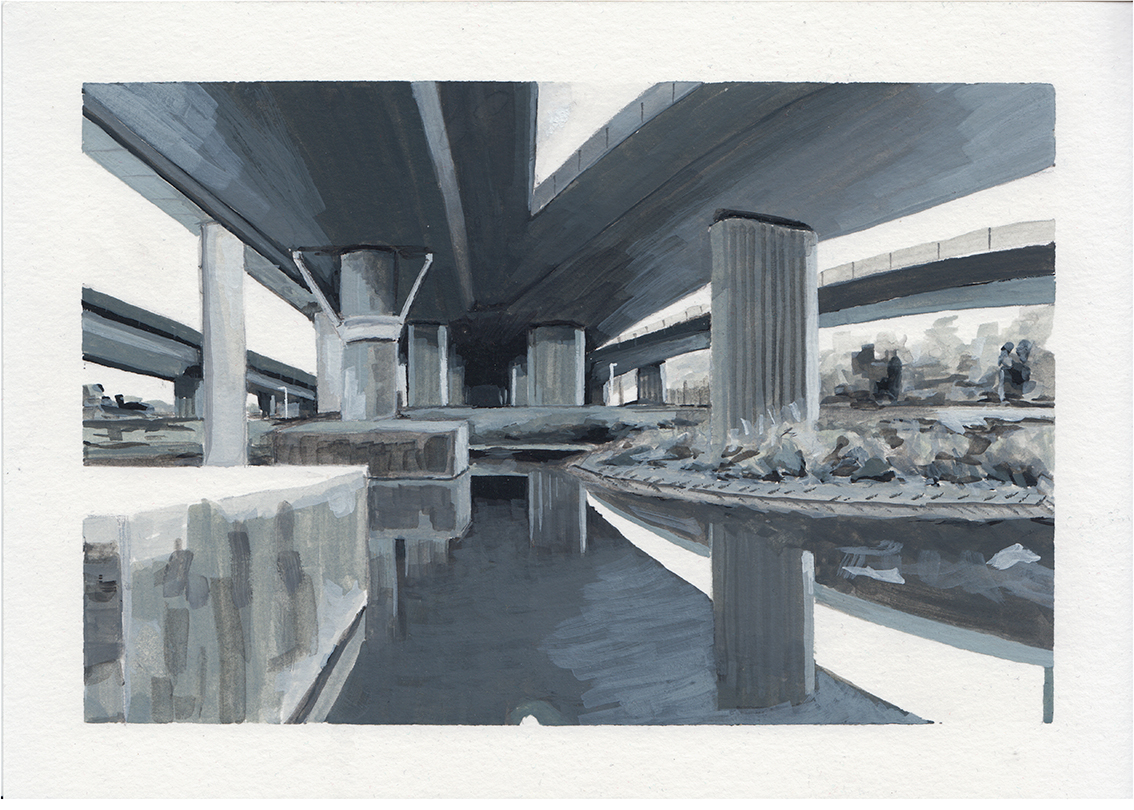 #18 Knooppunt Kleinpolderplein

#20 Vrijenburgweg
#22 Knooppunt Benelux

#24 Knooppunt Kleinpolderplein

#26 Gordelpad

#28 Knooppunt Kleinpolderplein

#30 Vrijenburgweg